László Halper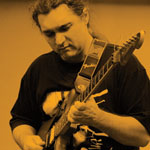 I was born in 1966 in a musical dynasty. Every man in my mother's family was a musician for 300 years back. My grandfather, Károly Mágó was a famous gipsy band leader, and in 1932 he made several recordings in Greece for Columbia label.

I began to play violin at the age of 5, later, at 13 I changed for the guitar, influenced by a black blues guitarist. At the age of 20, I was admitted to the jazz faculty of the Budapest conservatoire where Gyula Babos was my teacher. I graduated in 1991 and joined the band of Imre Köszegi, but in the same year I continued my studies in Vienna, at the American Institute of Music. There I joined the group of bass guitar teacher Angus Thomas, the Culture Kings. He had worked with such big stars as Miles Davis or Buddy Miles. Parallelly, I played concerts with my own group, Starting Points.

In 1995 I made a study tour in Australia where I made acquaintance with Jackie Orszáczky. It happened also in Sydney that I got acquainted with John Scofield, and he was kind enough to listen to my demo cassette. He gave a very positive opinion that I later put on the cover of my first album ("Urban Noises") as a motto. In the same year (1995) I played on a CD at the invitation of Blueseum label, this was their first publication, with the title Blueseum. Beside my own band, I also worked for two years in the group of Gyula "Bill" Deák. My first own CD, Urban Noises came out in 2002. Then I founded a group with the same name (Zsolt Kosztyu - bass guitar, János Paczkó - keyboards, samplers). In 2004, I published an album of Urban Noises titled Gray Days, featuring Jackie Orszáczky. A CD release concert was held in the summer of 2004 at Millenáris Teátrum. Urban Noises was later extended by two regular guest: Lajos Kathy Horváth - violin and Alfred Sankoh (Sierra Leone) - percussion.

In 2006 I founded my band Off Abbey Road which plays Beatles and Jimi Hendrix songs in jazz style. The members are: Imre Köszegi - drums, György Orbán - double bass, Gyula Lakatos - piano. At the same time I created another band named Off Abbey Road Acoustic including a string quartet and Kornél Mogyoró (percussion) beside me.

I began to work at Radio C as editor, broadcaster in 2002. The title of my first series was Music Legends, by which I tried to keep the memory of legendary gipsy musicians (Károly Mágó, Elek Bacsik, Kálmán Banyák, among others). In 2004 I wrote a book with the same title on the musicians presented in the radio series. The best recordings played in the series were released in 2007, the title of the CD was "Recordings of Legendary Gipsy Musicians". I contributed to the writing of the book "Broken Dreams" ("Széttört álmok") treating the true story of Syrius ensemble.

On Sunday evenings my program called 'JazzTest' is broadcasted on the Club Radio.

Usually I perform with my group Band of Gypsys Reincarnation jazz adaptations of Jimi Hendrix's compositions. In 2004, I recorded and published a CD for the 40th anniversary of Jimi Hendrix's death, called '40 Years After'. This CD is featuring Mr. Randy Brecker on trumpet, in 4 tracks. In October, 2012, the 'Band of Gypsys Reincarnation' gave a monumental and very successful concert in commemoration of Jimi Hendrix's 70th birthday. The band's rhythm section featured Mr. Eddie Gomez on double bass, and Mr. Steve Gadd on drums. Our special guest was the band's regular soloist Mr. István Fekete on trumpet.

Nowadays I play concerts with the following line-ups: Halper-Hendrix Experiment, Halper Experiment feat. Franciska Törőcsik, Halper Quintet and Halper-Hendrix World.